A couple of weeks ago, I was telling you about my experience and opinion of Safari Technology Preview for Mac. I would appear to be in the minority. But as I said, it keeps me from adding to my collection of hundreds of bookmarks. "Groups" is my savior.
At the same time, I've been playing with 1Password 8 from AgileBits.
I promiset myself everyday to file the heap of papers crushing my desk, to trash the emails that I still have from 2010, to whinny down the hundreds of bookmarks I have amassed over a dozen or more years, and to sift through my passwords.
If you have any fears of the tinkering under the hood that AgileBits has done with the new version – don't. It runs fine.
1Password has for a while now had a function that helps you keep your passwords in order and up-to-date.
It notifies you of passwords that are duplicates. It points out where you can utilize two-factor authentication. You can set-up any number of vaults for different collections of passwords.
But the most useful function is Watchtower. It grades the passwords you have on a scale from Fantastic to Terrible.
Here are my results: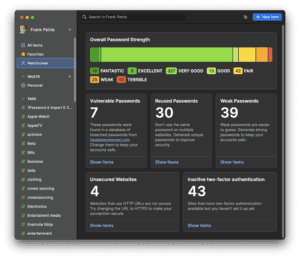 This aggravates me. I'm going through a curious phase with my electronic devices. I don't appreciate their correcting me or pointing out my flaws. While it is no doubt correct, I don't like a computer or software that I paid for pointing out my shortcomings, as well intentioned as they may be. Inanimate objects lording over me irritates me.That's what humans or family at Thanksgiving dinner are for, right?
IDK, there's something that irks me when a piece of electronics calls me out. Perhaps it's only fair. I do tend to verbally accost my hardware or software from time-to-time. II suppose they're merely leveling the playing field.
I realize it's a flaw I have. But it's simply irksome…
©2021 Frank Petrie