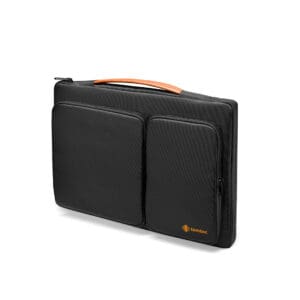 I am currently in a situation where I need to move my podcasting studio (plus accessories) to another room to join a podcast. I started a list of everything I would need to bring with me to make this work. While not terribly sizable, it's enough to be a PITA. A balancing act worthy of the Ed Sullivan Show (yea, I'm that ancient).

But I found a recommendation on YouTube for a bag that could more than fulfill my needs and then some. Today, I submit for your approval the 'Tomtoc Defender-A17 Laptop Handbag For 13-inch MacBook Pro & Air'.
JUICE
"Your laptop is expensive, make sure you tap into the sleek, innovative and trendy sleeve designed to deliver maximum protection. Protecting your laptop from damage will not only ensure a long lifetime, but it will keep your data secure."
Sounds promising. The price is definitely reasonable. Let's look.
PULP
On initial overview, I am very impressed with the quality. The design is well thought out and executed.
First, the bag is made of a highly waterproof material that feels like it can withstand years of moisture. It has two pockets on the front that are large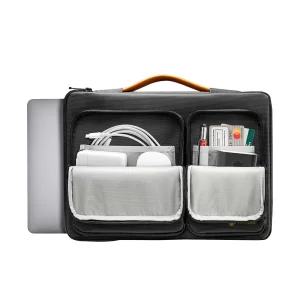 enough to hold your cables and a charger. There's penholders plus a small card pocket. It'll even carry an iPad Mini!
The zippers are ultra-durable YKK Zippers with an extremely smooth glide to them.
The compartment for your MacBook is lined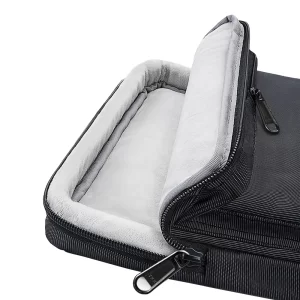 with a plush, cushiony fleece to prevent any scratches. Two rubber 'CornerArmors' at the bottom corners, provide high resilience protective edges protecting your device from unexpected drops and bumps. Think banging the bag against a table leg in a coffee shop, then dropping it to the floor.
RIND
Can't say I have found anything I could even nitpick. After going through bags at this price like so many facial tissues, this was a welcome surprise.
CONCLUSION
The 'Tomtoc Defender-A17 Laptop Handbag For 13-inch MacBook Pro & Air' lives up to Tomtoc's promises. Again, looking at the quality of design and construction, they easily could have charged more for this bag.
The bag also fits iPad Pros and other PC laptops. I highly recommend this bag if you're in the market.
©2023 Frank Petrie