iPhone SE 2020
AirPod Pros
Series 5 AppleWatch
As the year 2020 has progressed, the term 'mobile' has acquired an entirely different meaning. No longer is it a verb but a noun. But even though our travels have greatly reduced, we still cherish our devices as they have become an intricate part of daily life.The one thing that hasn't changed is they're battery dependent and have to be repeatedly charged. This has resulted in a blossoming industry of accessories.
Ideally, we charge them all at the same time, preferably when we're asleep, when not beholden to them. And in a centralized , easily accessible location.
Thus the genesis of the multi-hub charger. In this review we're going to checkout a unique one – the elago 3 in 1 Charging Hub Pro.
Our charging hubs provide a stylish solution to charge your favorite Apple products such as iPhones, AirPods and Apple Watches.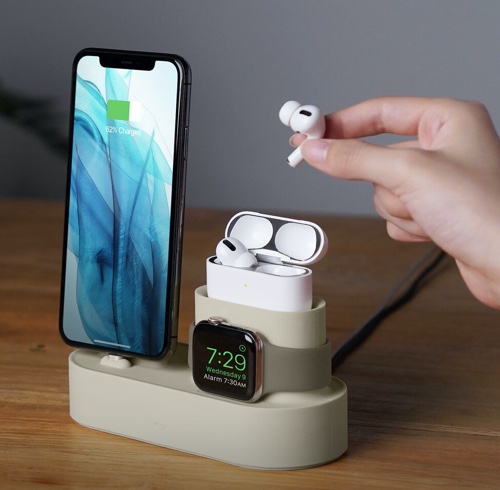 The elago Hub that I reviewed comes in four colors. But there are various configurations to fit your personal needs dependent on the devices you own. They too come in miscellaneous colors.
The elago stand is unusually constructed. It's not made of the heavily weighted aluminum as one would expect. Instead it's a molded, pliable silicone shell that allows you to install the necessary components to complete your charger (more on that later).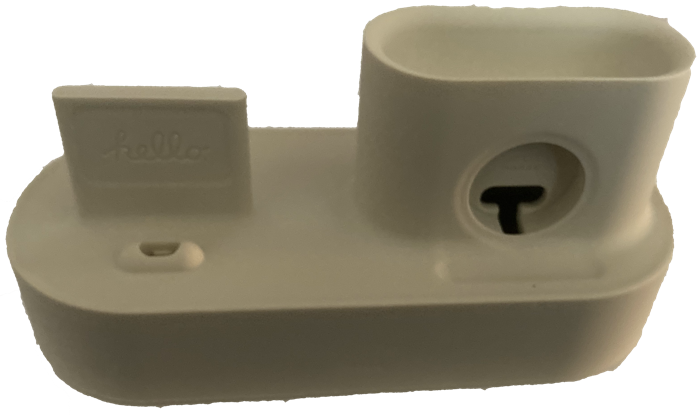 I found the base's material created an incredible surface grip. Instead of depending on four small pads to keep the charger in place, the entire base securely glommed to my nightstand like glue.
There is room within the base to coil cables to the desired length before they exit through the precut notches at the back of the base which allow you to connect each device to their prospective power source.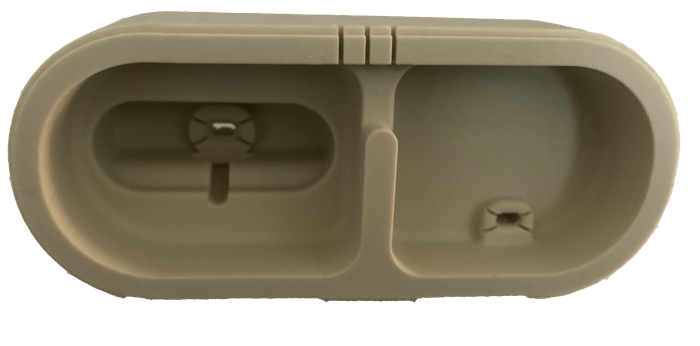 The housing is thick and sturdy. It will not fold under the weight of your devices.

This flexibility affords the opportunity to mix and match chargers of your choice. For example: my Series 5 AppleWatch came with a stronger magnet than found on another multi-device hub I had previously reviewed. So, I installed that as my watch charger and saved some money.
I personally prefer Anker chargers and so I ran my fast-charging Nano to my iPhone SE 2020. As of this writing I'm running one of my old 5W chargers to the AirPod Pros' holder. A slow charge every other night as I sleep should suffice for those.
The beauty is there's a myriad of ways you can approach this. Perhaps a single high-speed charger with multiple ports is your preference. Or (as I'm now starting to think) a single slow charger with multiple ports. The choice is yours.
Equally, if not most impressive, is the extremely simple and effective cable management – it is priceless. A definitive 'palm-slap.'
The elago negates the occasional disappointment of buying an accessory because its design was so appealing, only to find that when you plugged it in, its performance was lacking.

To call it a hub is somewhat misleading. It is a starter kit for a functioning hub. You can't take this out of the box, plug it in, and start to use it. With the proper marketing though, this could make a standout benefit to the "hub." Maybe hook-up some partnerships with charger and cable companies?
In certain ways I found this liberating, in someways frustrating. You can choose from the manufacturers you prefer. If you're a DIYer, you'll giddily spend time trolling the net for the best deals. If not…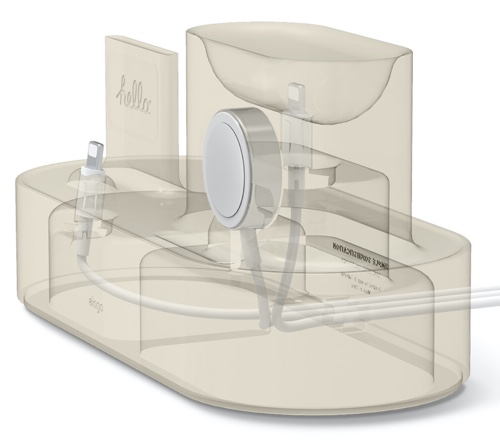 I was disappointed that you can't use braided cables but only thin ones. But, braided cables are best suited for stringing around and thin cables are perfectly capable of remaining static. But I have tons of USB-A cables and for a hi-speed charge I'll have to purchase a USB-C cable. Then again, if I'm charging overnight…
I managed to find MFi certified, thin fast-charge cables with a little trolling. So you'll either have to sift through your rat's nest of leftover wires or purchase some new MFi certified cables if you've a need for speed.
Initially, when I tried to place my iPhone onto the lightning plug, the entire plug immediately pushed down and out of its holder. After resetting the plug's housing and training myself how much pressure to use when placing and removing my device, I was able to make it work.
A small, yet irksome, issue was elago's products don't always work within their own ecosystem. I recently purchased a silicone case with carabiner for my AirPod Pros from the same company. But to place the AirPod Pros in the stand, I have hit a snag.
While a prudent move to place a flap over the AirPods Pro's silicone lightning input to keep it free of debris, to place the AirPod Pros incase onto the lightning connector, the only remedy I can find to keep the flap out of the way is to cut it off. That negates the purpose of the original design. Hopefully, they design a way around this problem.
Most importantly, I would have appreciated either a small pamphlet, set of instructions online, or any type of support whatsoever explaining how to place the plugs in their supports properly as opposed to learning through trial and error. The would have saved some time and cussing.

In the end, I have to say that the concept is brilliant but the execution is not 100% complete. If it was, I would recommend the "hub" without a single reservation. I'm still happy with the product but would hope the manufacturer addresses the couple of drawbacks in future releases.
If you're looking to save a few bucks and tailer the set-up to your liking, this is for you. You can choose the internals from whichever manufacturer you like best. Choice is good.
Understand though, that even though not difficult, you will have to do some homework and roll up your sleeves a little. At most, it could be a small project once you devise a way to keep the plugs from pushing through and how to deal with the AirPod Pro's flap..
Otherwise, this makes a great addition to your Apple ecosystem.
©2021 Frank Petrie