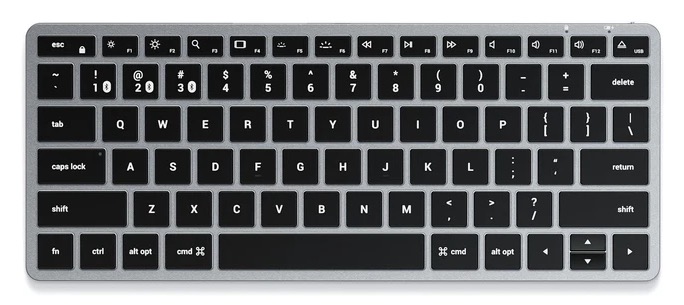 I've never been a fan of mechanical keyboards, much preferring those with keys with less travel. So, I'm going to review Satechi's Slim X1 Bluetooth Keyboard.
Out of the gate, the packaging matches Apple's criterion. The Slim X1 comes with a USB-C>USB-C cable for both charging or should you find an instance where you need or prefer hard wiring, two rubber feet (approximately 1/3") to adhere onto the bottom of the keyboard should you prefer a slightly elevated typing angle, and an instruction manual.
Because of health reasons, I find Apple's keyboard key travel the right height to work with my dexterity limitations. But in the limited time I've used the Slim X1, I'm preferring those extra few millimeters.
They're not so high that I can't glide my hands across the keyboard but the right height that I can readily differentiate between keys. This helps keep my typing from being as sloppy as it normally is. (Still not as sloppy as my eating, however!)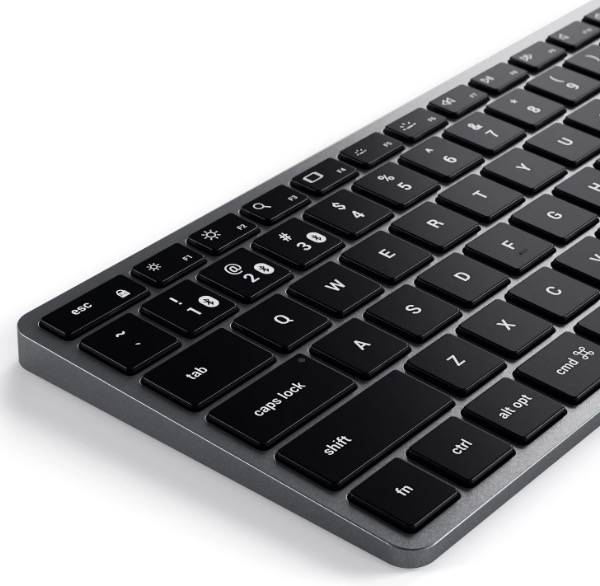 It's enough to be noticeable which I found to be a positive. And the unit happily comes with a full compliment of function keys with extra functions, such as launching Spotlight.
The main thing I had to get used to was the tactile sense of the keys. I've never touched keys that feel like this. They are simultaneously soft yet solid. You have to try them to really understand what I'm saying. I have come really enjoy typing on them.
The Slim X1 pairs with three different Bluetooth devices at a time. A positive boon for switching between my iPadAir 4 and 2015 iMac. Sadly, pairing wasn't as smooth a process as hoped but there was a legitimate reason.
You should be able to pair the keyboard by holding down one of the three Bluetooth pairing keys until the LED flashes, producing a successful pairing. But several attempts proved unsuccessful. I contacted Satechi whose engineers had never heard of such an issue before.
They provided several suggestions and one of them worked; righting the wrong, I found that the keyboard could be set for three different regions of the globe. It was set for Asia (I'm guessing that is where my review unit was destined to be shipped). I reset it for this region and I was off to the races.
You can charge the Slim X1 in about 2-3 hours. There are ten levels of backlight brightness, adjustable through keystrokes. To save on battery life, the backlight decreases to Level 1 if there's no usage after 1 minute.
(As I write predominantly at night, the backlit black keys are a godsend for my aging eyes. Think of it as Dark Mode for your hardware.)
The backlight will turn off if no usage is detected for 3 minutes. After 30 minutes of inactivity, the keyboard will assume you've rambled off somewhere and go into 'Sleep Mode' to preserve the charge.
To automatically awaken the keyboard, simply press any key. I should also point out that if your computer is asleep, you'll have to push any key to awaken the keyboard, then press a key again to awaken the computer. A bit odd but you fall into the routine easily.
The letters on the keys light up very brightly. However, the light spills out around the keys themselves. At first this was somewhat distracting but after time I was unaware of it.
The review unit came in Space Grey but co-ordination of the colors of my equipment are of no importance to me. For me, function is foremost. If this is an issue for you, check the site to see if your desired unit is available in Silver.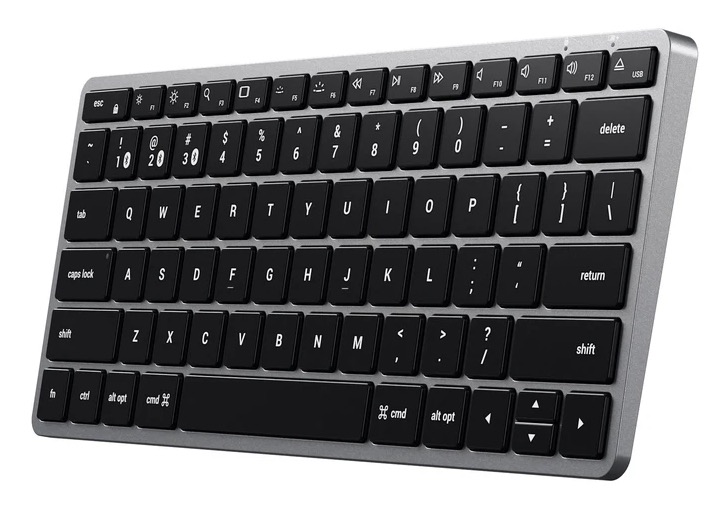 There were a few disappointments. One was that the arrow keys weren't in the inverted 'T' layout. But then again, Apple is guilty of the same charge on their Magic Bluetooth keyboards. The second was you can't read the battery's charge percentage of the keyboard in the Bluetooth pane as you can with Apple's hardware.
The Slim X1 Bluetooth Backlit Keyboard is alpha-centric. If you'd like to include a numbers pad to your keyboard, you'll want to check out the Slim X3 Bluetooth Backlit Keyboard. Both units can also be purchased as solely hardwired units.
The Slim X1 Bluetooth Keyboard costs USD $69.99. As of this writing it is out of stock, as are several Satechi devices. Best to check their site to see if the item your craving is currently available.
I was pleasantly surprised at the combination of function and quality. For me, it checked off all the boxes. As a result, I have no qualms recommending the Slim X1 Bluetooth Backlit Keyboard from Satechi.
Enjoy.
©2021 Frank Petrie