Now that Apple has tossed its hat into the Lossless Audio ring, as I explained last month, you will require a new piece of hardware – a DAC (Digital to Analogue Converter)/headphone amp. This is irregardless if you're using a mobile device or a desktop/laptop.
The DAC/headphone amp I'm going to review is more suited for the desktop. It's an entry level DAC that has created quite a buzz – the ifi Zen DAC v2.
Hear familiar songs in a whole new light with rich detail and warm natural tones created by the Burr Brown True Native digital to analogue converter which can process any hi-res audio format up to PCM 384kHz/24 bit, DSD256, DXD 384kHz, and decodes MQA all without additional conversion so you can listen exactly as the artist intended.
The box contains the unit itself,  a small card explaining each port, knob, and the lighting legend (more about this later) plus a box with the cabling you will need to begin upgrading your listening experience: a stereo RCA cable, a USB cable that not only sends your data but supplies phantom power, and a metal adapter for the unbalanced input in the likelihood that your headphone does not have a 6.3mm plug but a 3.5 mm plug. 
There is extensive support if you scroll down to the bottom of the site's page.
First, the sound reproduction. The second-generation Zen DAC improves performance by using a new XMOS 16 core processor, replacing its previous 8-core processor. The Zen DAC V2 now supports PCM and DXD to 32-bit/384kHz, DSD256 and MQA. DSD remains 'bit-perfect' thanks to the True Native Burr-Brown chip design.
I'm over the moon when I hear music the way I heard it when I was a musician performing on stage or in the studio (no doubt former bandmates would question the veracity of my use of the term 'musician' regarding my playing ability).
For testing:
Hardware: Audio Engine 2+ computer speakers,  a late 2015 iMac 21.5"
Software: Apple Music, Fidelia
Songs:
Here Comes The Sun/The Beatles (2019 Remix)

No Body, No Crime/Taylor Swift

Adagio for Strings/London Philharmonic Orchestra & David Parry

Under Pressure/Queen & David Bowie

21st Century Schizoid Man/King Crimson

St. James infirmary/Hugh Laurie

Whole Lotta Love/Dreaded Zeppelin

Stir It Up/Bob Marley

I Almost Had A Weakness/Brodsky Quartet & Elvis Costello
(Yeah once I started I couldn't stop myself.)
Resolutions.aiff, .wav, Stream/AAC Audio (Apple stream)
16 – 24 bit; 44.100 KHz – 96.000 KHz. Apple Music was listed simply as "Streamed."
Testing was done with a mix of two software sources – Apple Music and Fidelia. Some of the songs were downloaded files, some were streamed.
I started my testing with the external speakers. I began by setting the EQ to 'Flat' (a straight line across) so as not to color the sound or to cater to any of my personal biases. First I played 'Here Comes The Sun.'  (This is a superstition of mine. I'm a long, long, long time Beatle fan. As a result, when I use a piece of musical hardware for the first time, I always christen it with a Beatles' song.)
I also picked this song as the 2019 remix of Harrison's acoustic opening on "Here Comes The Sun' sparkles. The guitar's strings resonate so pure and clean, it's as if Harrison were sitting only several feet away.
Different recordings will differ for various reasons. McCartney's bass wasn't as tight sounding as I would have liked on "Abbey Road" but it was decent. The bass on 'Under Pressure' and '21st Century Schizoid Man' was extremely tight. These decisions are made by the engineers, musicians, and/or producers involved during the recording and mastering processes. 
No matter which songs or genres I listened to, the iFi DAC gave me the feeling that I was listening to the recording for the first time. Each singer and instrument was given room to breathe. You could make out the bowing of the strings in a quartet. You could follow the decay of every instrument or effect (The Beatles' 'A Day In The Life' ending piano strike being a most sterling example). It also was much easier to distinguish the individual effects used on each vocal or instrument.
That was through my Audio Engine 2+ computer speakers. As I live in a studio apartment, using the iFi Zen DAC filled the room with quality audio.
Now onto using headphones.
For testing:
Hardware: a decade old set of Sennheiser Momentums (closed back),  a late 2015 iMac 21.5"
Software: Apple Music, Fidelia
Songs
Beetlebum/Blur

the lakes (bonus version)/Taylor Swift

Strange Fruit/Billie Holiday

Those Lies/Boz Scaggs

Island Of Lost Things/Jill Sobule

R. Strauss: Also sprach Zarathustra, Op. 30/Boston Symphony Orchestra & William Steinberg

S.O.B./Nathaniel Rateliff & The Night Sweats

Aida: "Se Quel Guerrier Io Fossi!..Celeste Aida"/Lorin Maazel, Luciano Pavarotti & Orchestra del Teatro alla Scala di Milano

Children of Sanchez/Chuck Mangione
 Resolutions.aiff, .wav, Stream/AAC Audio (Apple stream)
16 – 24 bit; 44.100 KHz – 96.000 KHz. Apple Music was listed simply as "Streamed."
Again, the EQ was set to 'Flat.' My particular set of closed back headphones lean heavily towards the bass, so I was extremely interested in hearing how things would sound. It worked quite well.
The results were the same as with the speakers. Unfortunately, my cans are closed backed as opposed to open backed. Meaning the sides are solid and can't breathe, whereas open-sided cans give you a combination of the benefits of listening through cans and open-air speakers simultaneously, like the port on AirPods that helps to reduce the pressure in your ear canals.
Interestingly, I found the True Bass feature quite satisfying when listening through the cans at a reasonable volume. (NOTE: I rarely, if ever, listen to anything at a reasonable volume. I played on stage long enough that I want to feel I'm in the center of it all.)
As with the speakers, testing was done with a mix of two sources – Apple Music and Fidelia. Plus some of the songs were downloaded files, some were streamed. The results were more than satisfying.
And simply for giggles, I ran AppleTV+ through the DAC. Granted, you won't get Spatial Audio, but it was great for films that weren't formatted as such. And if it's late at night, you can listen as loudly as you like through your headphones.
Now onto the physical unit itself. The unit I was sent included a pair of RCA cables, a USB cable for transferring data and phantom power, and an adapter for your headphones. My Sennheiser's plug is 3.5mm, whereas the unit's port was a 6.3mm port. Needless to say, the adapter was welcome.
THE FRONT OF THE UNIT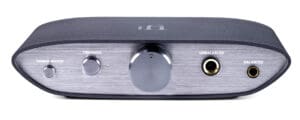 The housing is quite sturdy, made from die-cast aluminum. It is very stylish and has a relatively small footprint. I wouldn't use it on the go but it's no sofa either.
As surprised as I was with the build quality, I was equally surprised how solid the buttons were. They were solid and not plastic feeling, providing proper resistance.
There's a 'Power Match' button, which will try to best make your cans work at optimal performance with the DAC. The "True Bass' button is a matter of taste and is only as good as the quality of the recording. In most cases, I found that it gave more punch instead of merely boosting and muddying the bass.
There are two ports: the aforementioned 6.3mm unbalanced (= more noise) and a 4.4mm balanced (= silence). The new unit is version 2. As with Apple, the numerical upgrade is due to an interior enhancement.
The most interesting feature is the glowing light behind the volume control. The color it emits during playback, signifies what file extension you're listening to (i.e., .aiff, ALAC, et al.)
THE BACK OF THE UNIT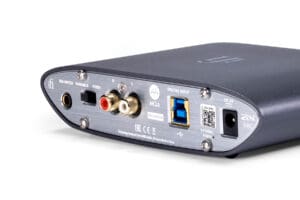 The back of the Zen DAC is as basic as the front. There's your balanced port, a variable/fixed switch which determines whether or not the Zen DAC's Volume Control functions when the rear analogue outputs are used, L/R RCA outputs for your speakers, the digital input which supplies your data and phantom power, and your 5V power input.The Pros
The housing is extremely sturdy, constructed of what appears to be die-cast aluminum. There are the balanced and unbalanced inputs as discussed earlier. (And remember, the unit comes with an adapter so you can use your 3.5mm headphones.)
The Cons
Zen DAC did not include a power supply but is willing to sell you one. (I'd say they ripped a page out of Apple's playbook.)
One feature it lacked was very baffling. There is no power button to turn the unit on or off. If you wish to do so, you have to manually disconnect the unit from the power source. Very strange.
SUMMARY
So, after spending several weeks with this unit, I will definitely be jonesing until I purchase my own unit. But it'll be worth the wait. WilI I purchase the power adapter? At its listed price, not likely. But I've not been bothered by the lack of it during the trial period, so…
If you use your music for more that aural wallpaper, the ifi Zen DAC v2 is definitely worth the price. Who knows. Perhaps out of curiosity, you'll borrow some cans or attach some speakers and listen to your favs to see if there is anything you have been missing. And trust me, you will find things you never noticed before which will you make you appreciate the artist even more.
You can purchase the Zen DAC for USD $159.00 at the time I write this. And if you want, you can purchase the power supply with braided cable for USD $69.00.  No matter what configuration you buy, enjoy.