I've mentioned over the last several months I'm in engaging in a proof of concept project. I'm convinced I can produce a quality video using predominantly minimalistic tools.
Reviewing my arsenal:
1) Camera app. FilmicPro, due to its fine granularity. ISO, f stops, et al., are all available to adjust to my preferences.
2) Physical camera. I'm using an iPhone 13 mini with its flagship innards tricked out with several Sandmarc lenses and filters.
3) Lighting, I'm gerryy-rigging as much as possible. Two LED cards the size of my iPhone 13 mini plus some white foam core for bounced, diffused and fill lighting.
The only thing that I spent cash on were two Lume Cubes for green screen, background, and accent lighting as needed. I also have a gimbal I purchased several years ago.
4) Audio. To keep everything minimal, I'm leaning towards a strategically placed Rode shotgun cold shoe mic.
The ulterior objective is to not have enormous trunks of kit to lug about. I want 'guerilla shooting' in its most minimalist form possible.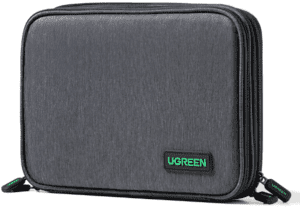 My Sandmarc kit comes with a small case to transport all of my opticals. The iPhone/camera, naturally, fits in my pocket. But I need to have another bag to house all the other necessary gear. Luckily, a YouTube vid provided me with the perfect compact – solution. the Ugreen Portable Electronic Organiser Case.
This water resistant case is small but has an abundance of compartments. So what can you bring along? Cords and cables, a mouse, a power bank, a USB-C charger, various SD cards, an SSD or two, a USB charging cable, your phone, and other necessary accessories.
It keeps all your kit securely inside using two solid zippers, one for the front compartment and one for the rear. Nothing is inadvertently going to fall out of this bag.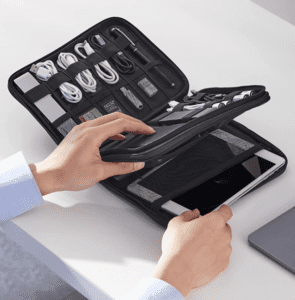 But what really sealed the deal personally is that you can pack an iPad mini 6 (or any small tablet) in it! This allows one to go on location and compose shots, monitor the recording, plus use it (if need be) as a dumping ground for files, possibly saving some dosh on purchasing a dedicated SSD. (The Ugreen will carry only an iPad mini (no iPad larger) or other small tablet.)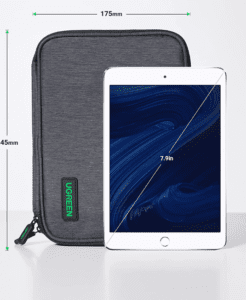 First, let's check its construction. This case is made of a durable nylon fabric. The exterior is securely held shut by two sturdy zippers.
There are five sides within the case (counting the tablet sleeve). It can carry every necessary piece of electronics or whatever necessity you could require. The sides have been compartmentalized with a sturdy mesh and strong elastic to prevent your accessories from flying about.
Another bonus is that even with all of your devices in place, it's still thin enough to place in a messenger bag, a purse, or a suitcase even when it's jam packed full of clothes.
I'm using this for carrying my smartphone video paraphernalia but there are many different scenarios this case is well suited for. Here are a few examples I can think of.
For one, the staple of business – presentations and lectures. You're about to give your pitch when you realize a cord integral to your set up is sitting at home on your desk. But if you had this filled with everything the day before, you could have simply placed it in your brief case and be on your way with the knowledge that you have everything you need. You could also pack off dozens of business cards. Or use your tablet to scan business cards, enter in new contacts, or handoff .PDFs.
School, particularly university, is another perfect use case. Cords, a tablet for taking notes, scanning documents, or carrying a portable audio recorder for lectures. (And a snack or two couldn't hurt.) And this would easily fit in your back pack.
If you're a designer or architect, take video of a rental property or a piece of land you want to develop. And annotate any of the pictures you've taken.
Speaking of back packs, what about when you go camping? You can bring along a tablet, a power bank for charging your gear, a foldable solar panel for charging said gear
Or for that matter any vacation. A tablet for reading, an iPad mini for researching the sites and planning your itinerary. Check for local eateries. Pack a second phone (just in case). If you can find good WiFi, send back snaps of the places you've visited to family and friends. Or touch base with them virtually.
I wager that anyone has some situation in which the organizer would be invaluable.
The Ugreen Organiser is available at Amazon and other online and retail stores. More than a worthy investment. Everything you need organized in one small attaché. And best of all, peace of mind.