Because of our situation over the past several years, virtual meetings have become mainstream faster than anyone could have hoped, be it for professional conferencing, personal hook-ups or family gatherings. As a result, webcams that were already at a premium, skyrocketed in the blink of an eye.
Many, including myself, who refused to use Apple's infamous built-in potato cams, resorted to other methods of streaming. Personally, like a great many others, I latched onto software that turned my iPhone's front facing camera into my webcam. And a good job it did, too. 
I did become tired, however, of having to assemble the rig every time I wanted to speak with someone or if lucky enough appeared on a podcast. After countless hours of trying to find a reasonably priced webcam, I stumbled across one at an astonishing price from a reputable brand name – Anker. I introduce the AnkerWork Conf 200 at the low price point of USD $69.99.
In the box you get all you need to get up and streaming: the C200, a USB-C to USB-A cable plus the usual paperwork. The QuickStart guide demonstrates two ways of mounting the webcam. You can mount the C200 in either of two ways. You can either mount it on a desktop tripod or the top of your desktop/laptop.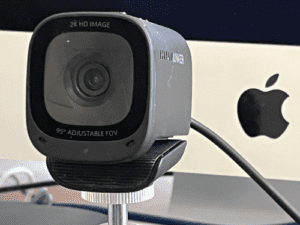 I have an ancient 21.5" iMac. Unfortunately, the flip-out piece to help you angle mount the C200 onto your computer wouldn't work for me. It has a small rubber pad with ridges at the end adhered to it, but my iMac would have noting to do with it. Fortunately, I had a small, inexpensive desktop tripod in my collection of odds and ends and this suited my situation perfectly. I actually preferred this approach as I could raise the lens to my precise eye level.
All to do then was download the app, install it, and I was ready to start adjusting the settings to my liking.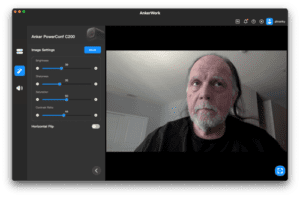 This unit can achieve resolutions of 360p, 720p, 1080p and 2K ultra-clear resolution. I immediately set it to 2K, bringing sharp clarity. And the setting's granularity is as impressive as it is intuitive. (The larger aperture size captures more light, so that even without a ring light in low-light settings, you can still look bright and professional with this computer camera.)
And this may be a silly little thing to some, but we all know the stories of computers being hacked into and a ne'er do well viewing you and your surroundings with you being unaware. This unit comes with an internal shutter you can open and close at your discretion. Only you have complete control of when your cam can be used.
The image settings are so intuitive that there's no real need to consult a manual. You can adjust your brightness, sharpness, saturation, and contrast controls via sliders. And if the mood should strike you, you can flip your image 180°.
You can also adjust how much of a field of view the webcam can see by choosing the angle of the lens's opening. Without losing any image quality, you can pick from 65°, 78°, or 95° to show just your face or include what's behind you. As far as the layman is concerned, it functions similar to a zoom function.
It also has autofocus which takes less than 0.5 seconds to adjust to keep you, or your presentation, incredibly sharp. Honestly, I never tried to see if I could fool it. But I can say that regardless of which field I set the webcam to, it was instantaneously razor sharp.
As for audio, you've the ability to select a directional (90°) or omnidirectional (180°) vocal pickup. Noises outside these areas will be muted. Because of dual mics, AI is used to pick up your voice while simultaneously reducing background noise.
Unfortunately, my experiences with the audio weren't as stellar as with the video. People I tested the system with were very impressed with the picture quality, while requesting I hook up a different microphone. As I have a podcasting mic, I used that. That combination left everyone impressed. My guess is that to keep the price down, something had to give.
Try what you have lying around. Depending on how old your computer is, your onboard mic won't be Grade A quality, but it could be a definite step-up. Or you could take the money you saved by purchasing this inexpensive webcam and put that towards an inexpensive mic or lavaliere! The sum price of the two pieces of gear probably would be less than a high-end webcam itself!
The Anker PowerConf C200 can only be used with macOS 10.13 and above. And should someone ask if they could borrow it, it also works on Windows.
The webcam can be purchased on Amazon. If the link doesn't work, go to Amazon and search for "Anker webcam."
©2022 Frank Petrie