Living what has currently become our new norm, many have taken to performing chores around the house that have been put off since the Eisenhower Administration (Google it, kids). Spanning the gamut from cleaning the garage, scrubbing the fridge (expiration dates from the last century I've been told are not a good thing), and even more. I know of one prominent podcaster and friend who spent this past Sunday afternoon cleaning out her toaster. You can do that?
As you're reading this blog, you most likely have started to clean up your Mac. Tossing old files, purging various Contacts on your Mac (plus Facebook) and if deranged enough, striving to reach the ever elusive Inbox Zero.
If so, you're most likely using (nae: should be using) Clean My Mac X from MacPaw. And now, they are proud to announce significant news.
> Released in 2008 by MacPaw, CleanMyMac has transformed into a powerful utility that removes clutter, optimizes system performance and protects Macs from malware and adware. Despite being distributed independently from the Mac App Store because of the platform's business and technical constraints, CleanMyMac got 20M+ downloads and at least one user in Antarctica. CleanMyMac's success allowed MacPaw to become one of the largest independent macOS software development companies with 10+ apps in its portfolio and a team of 240 humans and two cats.
I use CMMX at the end of each working day. It's one of the few actions anchored in my daily workflow.
You can obtain CMMX from their site or as part of your Setapp subscription. But as of April 28th, after 12 years, you can purchase CMMX at the Mac App Store. So, you have exhausted your excuses to not include this indispensable app in your tool kit.
The reason for the overdue entry into the MAS is a reflection of both technical constraints and how software business models are evolving:
> In 2018, MacPaw released CleanMyMac X and made it available as a one-year subscription in addition to its existing perpetual-license model. The subscription model turned out to work well for CleanMyMac X's customers as it allowed them to receive new major features every few months at no additional costs. The new subscription model could also be implemented in the Mac App Store, which made it possible for MacPaw to bring CleanMyMac X to Apple's platform.
Because the MAS limits privileges of applications to protect your Mac from malicious software, this approach sometimes imposes unnecessary restrictions on safe activities, like cleaning system logs or even updating application.
Both the MacPaw Store and Setapp versions differ slightly from the MAS one. Particularly, Apple's application review guidelines don't permit some of CMMX features, so they had to either revise or step back from them. Other than that, you still have plenty of tools to give your computer a good scrubbing.
My most recent review can be found here. But CMMX is ever evolving. Since that review it has added several more tools.
Pricing
– App Store: CleanMyMac X is available at US$39.95 for a one-year subscription.
– MacPaw website: CleanMyMac X is available at US$39.95 for a one-year subscription and US$89.95 for a one-time purchase. Prices may vary depending on the country.
– Setapp: CleanMyMac X is available on the Setapp subscription service that provides access to 170+ Mac apps for US$9.99 per month.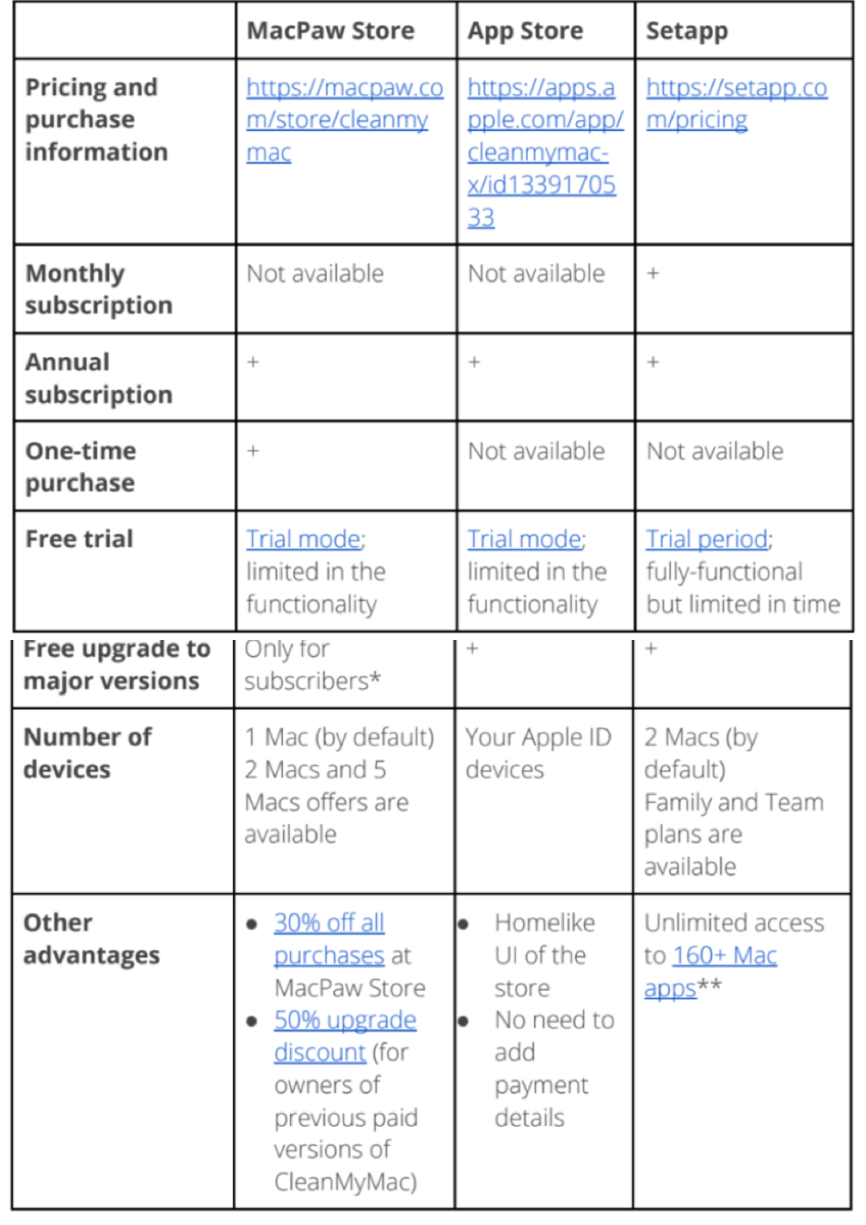 Requirements: OS X 10.10 or later, Intel Macs only. A free trial is available for the MAS, Setapp, and MacPaw website versions of CleanMyMac X.
If CMMX hasn't appeared on you radar, you can kick the tires with a free download of the MacPaw version (free trials of the other versions are available, as well).
Give it a bash. Then buy it!
©2020 Frank Petrie