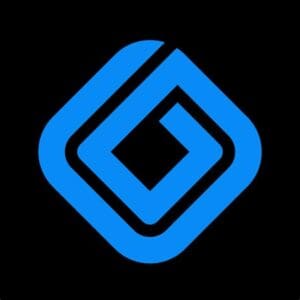 iOS 14.3
iPhone SE 2020
64GB Capacity
Our smartphone cameras and GoPros have become increasingly sophisticated. Some can actually shoot 4K Dolby. And as picture quality has increased, you likely want to increase your production values to achieve quality results.
Most people are really only going to use these features for home videos but would like to produce something of high quality all the same.
One of the most important tools you'll want is a gimbal to stabilize your moving shots and, with the aid of an extension pole, shoot from all angles, low and high.
But if you're not sure that you have a passion for the art, there's no sense in dropping a wad on accessories. Yet, you will want to purchase something that produces solid results.
Might GravGrip™ be the answer?
GravGrip™ is so small you can take it anywhere, any time… GravGrip™ functions in either a tilt position to capture those ultra-low shots, or a roll position to keep a steady horizon.
>
> Enjoy full 360 degree endless rotation in either position. Quickly switch between positions to get the right shot.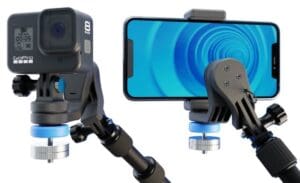 GravGrip™ is a two-axis gimbal (roll-axis and tilt-axis) that has a modest learning curve. After one afternoon of practice, you should have the whole thing down pat.
Assembly is equally simple. Should you need support there's contact via email, a downloadable .pdf, and a 7-minute plus video tutorial.
It is very compact and weighs but 107 g. The unit is unquestionably worthy of inclusion in your bag of tricks.

The manufacturer gives you concise, easy to follow assembly instructions. They demonstrate how to properly balance your gimbal when using either a smartphone or GoPro. If counterweights are necessary, they demonstrate how to use them to achieve the best results possible.
You can get answers to your questions via their downloadable .PDF, subscribing for their email updates, or watch their You Tube video.
I used the optional extension poll. You can also purchase hand grips, extra counter balances, and more at their online store.
I took for a spin up and down the hallway of my apartment building. I shot at ground level and about 7 for high.
The more I worked with the rig, the greater the results I was able to achieve.

The blue knob could use some ridges for a better grip for tightening. Plus I could not consistently get the camera unit to stay erect when fastened to the pole. It would occasionally slowly tilt forward. Can you say "Retake"?
And I was using a feather-light iPhone SE 2020. I can only imagine what issues you might encounter using a larger, heavier smartphone or GoPro. Especially if using with an attached lens. They say the counterweights should be able to handle this.

I found GravGrip™ to be quite competent for its price point. I was able to produce results equivalent to what they showed in their video. They're were several other reviews of the gimbal on You Tube that ended from stellar results to disappointing results.
You'll obviously achieve even smoother results if your camera is equipped with a stabilizer. And there's always additional stabilization that can applied in post.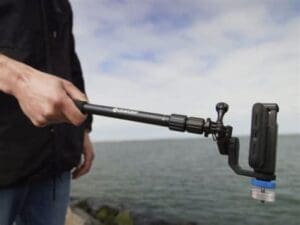 This will cost less than half of what you would pay for a three-axis, motorized gimbal. But there's a reason why the motorized gimbal costs more. There's extra features and a third-axis to play with.
Personally, I find this a polished first step and look forward to how the developer builds upon this. One would imagine the cost will always be rational as gravity never breaks down but motorized things do. This should provide hobbyists an inexpensive way of making their home projects look a lot more polished.
GravGrip™ costs USD $49.99. That includes 1 GravGrip™, 1 Cell Phone Adapter, and 1 Action Camera Adapter. Accessories such as Hand Grips, Counter Weights, and an Extension Pole can be purchased separately at their online store.
You paid a tidy sum for your camera. This is a drop in the bucket to up your production game.
©2021 Frank Petrie