macOS 11.1
Late 2015 4K 21" iMac
16GB RAM
1 TB Fusion Drive
I own a Late 2015 21.5" iMac ('or should I say that it still owns me'?). An undebatable iconic design with what one majorly pragmatic flaw. Everyone say it along with me – 'all I/O is on the back.'
It's not for lack of real estate. The chin on the iMac is huge enough to rent out for billboard space.
Such a bother to have to turn the entire unit at least 90° to access your ports and card readers. Yes, I have purchased hubs to alleviate this nuisance. But I paid for a computer with ports so I wouldn't have to buy ancillary products!
I find it even more irritating when I add to the 'nest of wires' (Editor's Note: Tired cliché) populating my desk. Luckily Sabrent has heard our cries and come to our aid.
The USB 3.0 Hub adds four additional USB ports to your iMac, allowing you to connect USB devices such as digital cameras, phones, external hard drives, flash drives, and printers to one convenient place. Its sleek design the perfect complement to your iMac computer. It does not require any software or complicated installation process. With a slim design, it saves you precious desktop space.
I'm going to review the 4-Port USB 3.0 Hub for the iMac Slim Unibody (HB-IMCU). You easily slide the bottom keys into the lower vents, then tilt the plug back, inserting it into one of the USB-A ports. You now have four USB-A ports accessible upfront.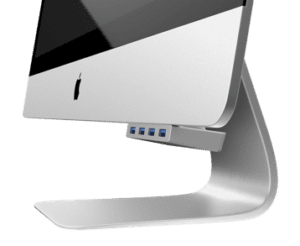 If your workflow requires the use of card readers, then the 3-Port USB 3.0 Hub with Multi-In-1 Card Reader for iMac Slim Unibody 2012 (HB-IMCR) will fit your bill.
Both models will only work with iMac Slim Uni-Bodies, released in November 2012 or later (both 21" and 27" forms).
This device has made my workflow so much easier. I have mentioned previously, my desktop resembles Dresden after the bombing. Papers are scattered everywhere, all about 4 inches deep. Wires, devices, and other assorted hardware are strung about the wooden landscape. My exterior hub is full. So when I want to use a device that needs to be plugged in, usually I wind up spinning the iMac, pulling all the cords and attached peripherals with them across the desktop.
And more often that not it's for something that I'm going to use for but a few hours (if not less). That's why this hub is priceless for me. An idea strikes or a need pops up in the moment, I merely grab the front of the iMac so it doesn't tilt and plug-in my device in seconds.
Occasionally, people will suffer a lack of judgment and allow me to appear on their podcast. I live in a studio apartment. Since I don't have the room to erect a permanent studio, I have to assemble and then disassemble one on the fly each time.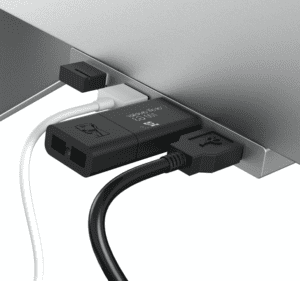 With the Sabrent 4-hub USB for iMac, I can plug-in a playing card sized LED light and bounce it off the wall for instant lighting. Plus I have a mic attached to a boom arm, moored to the corner of my desk. Swing it into position, plug it into the hub, and set my volume levels
There are several caveats. 2.4Ghz wireless devices, such as wireless keyboards and mouse adapters, may not work in close proximity to USB 3.0 devices or hubs.
The hub is exclusively designed for use with the 21 inch and 27 inch iMac slim uni-body model, November 2012 or later. It supports transfer speeds up to 5Gbps (USB 3.0), 480Mbps (USB 2.0), and 12Mbps (USB 1.1).
For stability, devices connected to the hub must not exceed a combined current of 5 volts 900 mAh. External hard-drives should be connected to an external power source. Likewise, the hub will not charge your devices, it will only sync them.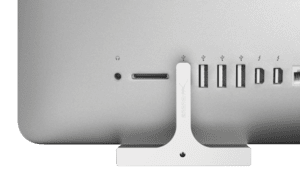 I have found not having to constantly twist my iMac around to plug-in anything a pleasure. If that sounds like a good idea, I definitely recommend these.
At the time of this review, the 4-port USB hub version is USD $32.99 on Sabrent's site. I have been using mine for everything from a quick charge to the aforementioned impromptu podcast studio. Well worth avoiding the hassles. Love it.
©2021 Frank Petrie