Eons ago, I was a musician. Technically, musicians will point-out that whether you're playing or not, you're a musician for life. Coincidentally, all my years of musicianship help me in writing these reviews: the flow of a sentence by using specific words in a precise order, for example, is akin to composing music.
I used to play plus compose music and industrial video soundtracks. I actually made a little dosh doing so. But due to health issues, all my fun came to a screeching halt. Even though I can't noodle around on my guitar or bass anymore, compositions keep popping into my head.
Many years ago, in the nascent days of mainstream computing, I started to mess around with what were entry-level music software programs. I still have some of those recordings somewhere about (you've never seen my filing system — as a matter of fact, neither have I).
During the budding days of podcasting, I used to have one myself. After all these years, I have come up with an idea for another one. Being a musician, I have a whole back catalogue of songs that were never played nor recorded. One heavy sax-laden chorus I always wanted to produce, I thought would make for a perfect short and aggressive intro and outro for a podcast I'm formulating..
As I can't really play keyboards (even before my health issues) I though that I would get an entry-level MIDI and give it a bash. After searching around for something to suit my needs, I came across [MicroLab]( [bit.ly/3h7XlTe] by Arturia.
MicroLab is a small, smart 25-key controller that ticks all the boxes. You don't need to install complex drivers, it comes with great software to get you started, has a great-feeling keyboard, and has loads of smart design features.
Arturia is a name I'm not familiar with. But after spending several minutes browsing the site, I was astounded at the wealth of hardware they have at all levels of musicianship.
I was particularly amazed at the dozens upon dozens of sound banks they have! Many reasonably priced and a few free ones. And the choices are all over the map: genres, tones, instruments, even banks based on groups like Tears for Fears and Genesis, personalities like Lady Gaga and Prince, plus my personal favorite, sounds reminiscent of the "Abbey Road" album.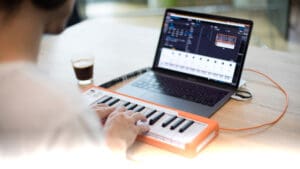 All of these sound banks can be used with the MicroLab. The MICROLAB is a small, portable 25-key velocity sensitive controller. The download comes with several free pieces of software, including a DAW (Digital Audio orkstation). This is the software that replaces the big and small consoles that you have seen. Or DAW software such as Logic, GarageBand, ProTools, et al.
The beauty of having a portable controller and a DAW of smaller size is that you can use it in either of two unique situations: you can use it on your mobile devices or, if you're a full-time musician, you can use it on the go and sketch and flesh out ideas you may have when out in the field. And it's as productive at home.

The MicroLab comes in three colors — orange, black, and blue. It is phantom powered and comes with its own unique USB-A cable. The cable's storage is absolutely ingenious. MicroLab features an integrated cable-tidy recess to keep your setup neat, and make storage and traveling quick and easy. Definitely a very innovative way of keeping you from carting around another cable.
Support is great. However, I have had an issue with the software. I emailed them, received a response, and several possible solutions within several hours. The site also houses a forum which has sub-sections for each piece of hardware they manufacture and a general software/sound area.
The hardware is great and was a no-brainer. Support is great. Software was a clusterfest.
Best use your free copy of GarageBand with its sounds and maybe several plug-ins instead of running the infuriating gauntlet of trying to retrieve the software which was supposedly part of your purchase.
I had to set up accounts with other companies that Arturia has struck deals with. When they got it working, the samples were stellar. But making it work a second time…
No one I contacted with any of the companies had heard of the one of the three pieces of software at all! Why Arturia can make deals with the various worldwide companies but can't bundle the various pieces of software into a one click download for the different platforms is beyond me. It would strike me as a no-brainer. Perhaps that's why I'm not management material.
This is a piece of hardware that is not only created for its portability for musicians who want to compose and record on the go. I would also imagine an affordable entry for those who want to dip their toes into composing and recording music.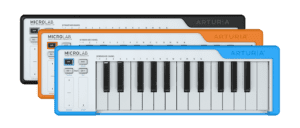 In summary, the price is reasonable for the hardware alone. As mentioned earlier, it is a solid piece of kit. But you may want to look elsewhere for plug-ins and such.
MicroLab can be purchased on their site for US$89.
Regardless of the software issues, as a piece of hardware, I would recommend it without hesitation.