With the advent of the pandemic, one of the few bright spots is that numerous people have become less technophobic. I won't list the plethora of software packages that have brought about virtual business meetings, family get togethers, and friendly gatherings. Even though it doesn't replace face-to-face interaction, maybe one day we will find it to be a commonplace option.
Unfortunately, Many don't have their systems equipped for. Some use the camera on their laptop which usually results in a fascinating excursion of the subject's nose hair. If you have a webcam, it's invariably looking down on you and there is little tor no eye contact.
But now there's a pragmatic device that can solve all these problems.
PlexiCam ™ was created by a group of event and broadcast industry professionals who got tired of webinars and online events that lacked the critical human connection. We handcrafted PlexiCam™ and manufactured it in our own USA factory to our exacting standards. Our mission is simple: to help people connect more effectively online.
PlexiCam comes packaged in a cloth carry bag to protect it from scratches and for easy portability. It comes in different configurations to fit the needs of whatever camera you use: be it webcam, smartphone, or DSLR/Mirrorless camera. You can also order various extensions to further customize your set-up. You can buy longer extensions to place your camera at precisely the right height plus extensions to place LED lights on top of your set up to brighten your image.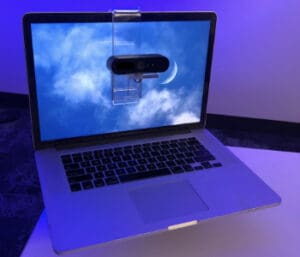 You can use your PlexiCam on both laptops and desktops. You can purchase six configurations, from Pro to Max. As I informed them of my preference to use my SE 2020 for my set up, they sent me the PlexiCam® Pro including the necessary extra hardware that I would require (phone grip, extension plate, mounting adapter, finger screws, et al.) to set up the everything properly.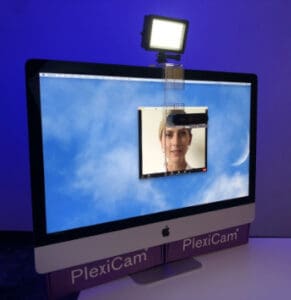 A concern that I have heard from interested buyers is that the unit could scratch their screen. My experience has been event free. Should you feel somewhat trepidatious, I suggest you go to your local home supply store and purchase some thin, adhesive, felt stickers and apply them to the back of the PlexiCam.From my experience, I didn't require any pads and the unit worked a treat. Of course, I couldn't see through my camera (I occasionally appear on a podcast with a handful of participants where usually at least one member would be obscured), yet I could make face-to-face contact with pretty much everyone on screen.
Another ingenious use for the PlexiCam is to turn your monitor into a teleprompter. Do you ave numerous statistics that you have to rattle off during a presentation? Not a problem as you can have them on your screen directly in front of you for reference, all the while staring into your camera (and Bob's your uncle).
As for support, Plexicam comes with a simple brochure to help you assemble your purchase for any set-up you have in mind. If you visit their site , you'll find pictures of every possible set-up imaginable. There's an assembly video, thereby giving you a point of reference to see if you've set up things correctly.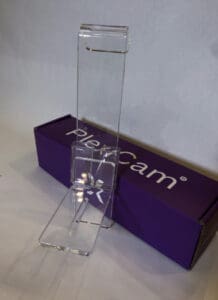 I love this product. There was a need for a solution to a basic problem which no one had addressed, so the creators took it upon themselves to address the situation. And they kept the solution as basic, customizable, and easy to assemble as possible. Kudos. If only more creators and developers would make their products as intuitive.
This review is short as this product is as basic and logical to assemble as it is to use. It's as pragmatic as could possibly be.
Costs range from the Mini Plexicam® for US$45, used on laptops with screens that are 15″ or less, up to the Max Plexicam® for USD $145, adjustable to fit any size screen and even holding larger mirrorless DSLR cameras.
The PlexiCam will up your game with minimal effort and make you look professional at your next business meeting or personal hook up the next time you have a virtual chinwag.
Enjoy.
©2021 Frank Petrie