Center Cam is slightly smaller than the size of a dime, sporting a 1920x1080p 2.0 mp HD camera with a 30fps native frame rate mounted to a USB-A cord (a USB-C cord can be purchased as an accessory). It supports a plethora of platforms from various Window's iterations, Linux, Android, and naturally Mac. It has auto white-balance and comes with a 1 year limited warranty.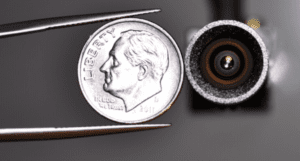 Mine arrived in a small, white box accompanied with the necessary components: the Center Cam HD assembly with the clip to mount it to your chosen device and assist in cable management.
There are also several accessories available for purchase. You can choose from: a 52 or 65 degree lens; a larger clip, a USB-C cable, an adjustable ring light with built in clip, and a small carrying case if you should take it on the road along side your laptop.
I tried it on both my older iMac and asked a few friends to give me their opinion of the camera's image and audio qualities.
I can honestly say this is such an amazingly pragmatic concept. There is no accompanying manual, therefore I highly recommend that you visit their YouTube channel before trying to assemble or use it. This series consists of fourteen videos that clearly explain how to set-up and use the Center Cam to its greatest effect. The first video immediately addressed one of my initial issues. I can't stress enough how much you should watch these videos so as to set up your plan of attack and to familiarize yourself with Center Cam's ecosystem.
Part One: The clip. The "spring clip" seemed very loose until I watched the first video. At first, it had an extremely loose grip and kept floating about the top of my late 2015 iMac. That is until I watched the video.
There are two channels molded onto the main clip to secure the camera's "flex tube": one on the front and one on the back. Depending on which ones you use, this will adjust the grip strength.
Part Two: The video. People I used as test subjects, connected over FaceTime (although we could have used Zoom, Skype, etc.). At night, you absolutely must have a solid light source. Surprisingly, even at only 2.0 mp with a light source, the picture was of respectable quality. The color was solid as was the contrast, though there was little definition in the shadows.
Center Cam sells as an accessory, a ring light that doubles as a clip. It is adjustable to several intensities. If using a 3rd party light, make sure it has a controllable dimmer. You can also adjust your camera's attributes with your conferencing software.
Unfortunately, certain conferencing software, if you're not using the paid version, will drop your camera down from 1080p HD to 720p SD. Center Cam recommends that you use a piece of 3rd party software called [iGlasses] which will give you much more granular control of your image on your Mac. iGlasses costs USD $19.99. Next Episode is currently working on its own software to make these adjustments.
During daylight, the difference is literally 'night and day'. I was near a window and the picture was very clean and crisp. There are a multitude of ways to refine your picture other than by software alone. You can adjust blinds, use bounce boards, and so on.
So far as eye-to-eye contact, Center Cam was perfect. You could stare at your subject in the face and your gaze was spot on. The small size of the camera made that easy. It made for impressive personal contact during the call.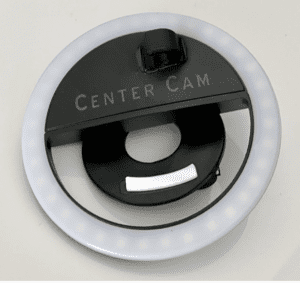 It also allows you to run a teleprompter over your counterpart's face without losing eye contact. You can have a list of bullet points in another pane and place it directly next to the picture, so as not to lose eye contact.
One of the videos will instruct you on how to focus your lens of choice. There are specific procedures to be followed, so make sure to watch this one.
Part Three: The audio. While the onboard mic does work, the resulting sound would generously be defined as tinny as there was no discernible bass. This may be fine when communicating with friends but would definitely reflect negatively on you during a business call. I would not depend on their mic but use an inexpensive external USB mic (I wouldn't recommend your Mac's mic either, unless you have an M1 machine).
My sole complaint is its overly steep price. Because of this, they are effectively pricing themselves out of a market for the average person that they could run away with. They are at the high-end of the regular webcam market while dipping their toes into the entry-level 4K market. You start adding the costs of accessorizing the Center Cam (lights, mic, etc.) to make it a viable alternative, and Ka-Ching, Ka-Ching! Because of this factor, I would think about how important your webcam is to your workflow..
If you decide to go with Center Cam, you can purchase it and its various accessories at their online store.
©2022 Frank Petrie