It was last year when I did a review of light bias as it applies to computers, mobile devices, and TV use eyestrain. With computers (particularly desktops) the simplest way to resolve the situation was the use of a 5200k LED light strip placed behind the device to reduce the strain on my eyes at night. Of course, the simplest way would have been not to use devices at all starting at about an hour before bedtime. (Yeah… that's gonna happen.)
But found no solution for my mobile devices.
An added concern during these extraordinary times is sanitation. It is of the utmost importance. Even if the current situation wasn't playing out, sanitation is always a paramount issue and your smartphone is probably the most germ covered thing you touch everyday. (I'll leave you to figure that out; HINT: In which room do you use your smartphone the most?)
One enterprising company recognized this niche opportunity and set out to create a solution. Today I review Zagg's Invisible Shield's Glass Elite Visionguard+.
Digital eye strain from prolonged exposure to device screens can cause premature eye aging, dry and irritated eyes, sleep disruption, and blurred vision. The protective Eyesafe® layer in Glass Elite VisionGuard+ filters harmful high-energy visible (HEV) light from your phone's screen.
Invisible Shield uses aluminosilicate glass which undergoes an ion exchange tempering process (don't look at me!), increasing the surface tension of the glass making it stronger and more scratch-resistant making for what they insist to be robust glass screen protection.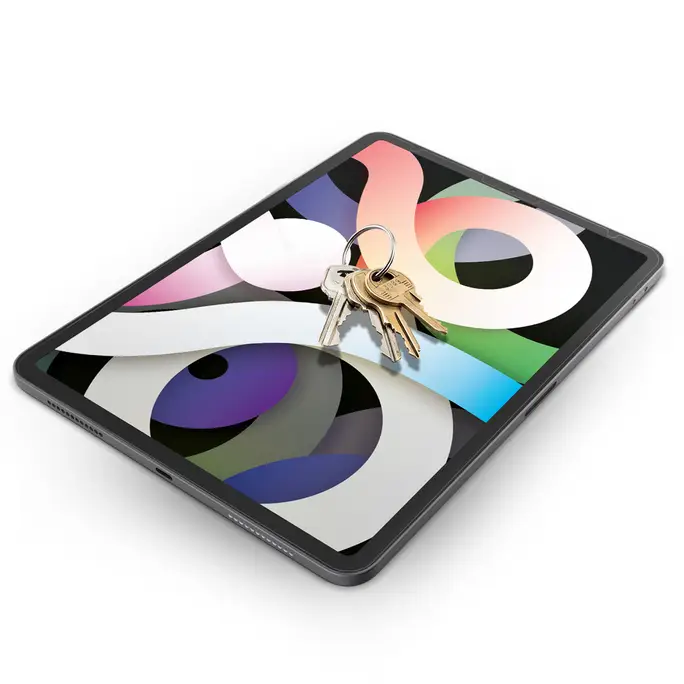 It contains anti-microbial treatment that protects the screen protector from developing odor-causing bacteria and guarding against degradation from microorganisms.
ClearPrint™ technology is a unique surface treatment—used exclusively by InvisibleShield—that hides the visibility of fingerprints on your screen protection. Developed by NBD Nanotechnologies, this oleophilic process spreads oils from fingerprints so thinly on the surface that it allows light to pass through the oil, making fingerprints virtually invisible.
The kit comes equipped with an installation tray to ensure accurate alignment, a rubber mat to provide a slip-proof surface to work on, a wipe to clean your screen thoroughly, a sticky square to remove any remaining dust, and a microfiber cloth to dry the screen off to prepare it for your protector's application. There's step-by-step instructions included to guide you.
The reinforced edges protect the exposed corners and edges of your screen from chipping and cracking.

The materials are solid. I found the application process to be well thought out. But as with all screen protectors, bubbles are as bountiful as they are infuriating.
After placing the protector on the screen with the alignment tools (A very nice set-up until I proceeded to try to push out the bubbles. I proceeded for roughly 45 minutes. HINT: Do not apply a screen protector around small children as you will use "words I never heard in the Bible.")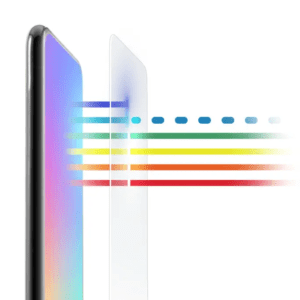 I know off one person who can apply these perfectly using the rattiest versions available! Oh, to be so gifted.
As for the reduction of eye strain, after only several days, I honestly can't say. It may take weeks to know. I can say that there is no tint added to the screen and the touchscreen operates flawlessly after its application.

Aside from the aforementioned Bubblegate (and to be fair, there were about a half dozen, the majority the size of a pin head), things went well.
At first, I was shocked – there were enormous bubbles on the screen. I later found these two be mainly bubbles between the screen protector and application film. (Deep sigh of relief.)
Fondly enough, I'll be retaining the holder and rubber mat for future work needs on my iPhones. It actually served quite well.

I recommend you give the Invisible Shield Visionguard+ a look at. Treat yourself, visit their website, and check out the plethora of other products they have – wireless chargers, screen protectors for tablets/smartphones/Series 6 watches, MagSafe cases, audio paraphernalia, and so on.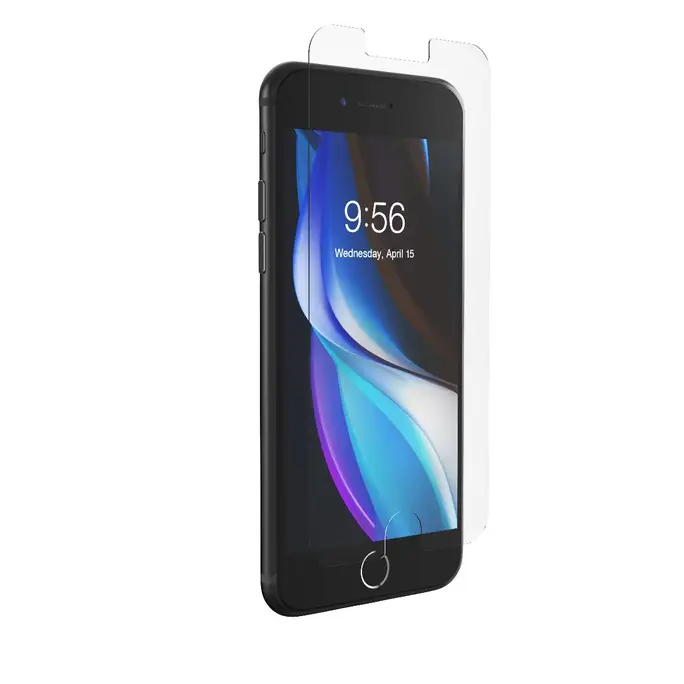 The Glass Elite Visionguard+ is also available for Google Pixel models, the iPadAir Pro 4, and iPhone models from the iPhone XR to iPhone 12 Pro Max. Purchases made after February 15th, 2020, have an extended 60-day return policy and a limited warranty.
Yes, you can buy less expensive screen protectors. But what pushed me into trying this was the blue light reduction. As I said earlier, we spend so much time in front of our screens (particularly now) that you would be prudent to figure protecting your vision into your viewing equation.
©2021 Frank Petrie